Shopping Cart
Your Cart is Empty
There was an error with PayPal
Click here to try again
Thank you for your business!
You should be receiving an order confirmation from Paypal shortly.
Exit Shopping Cart
| | |
| --- | --- |
| Posted on October 22, 2017 at 2:10 PM | |
WEAL's October 2017 newsletter and an invitation to the November 9th presentation on Foxconn and other important issues.
View newsletter HERE.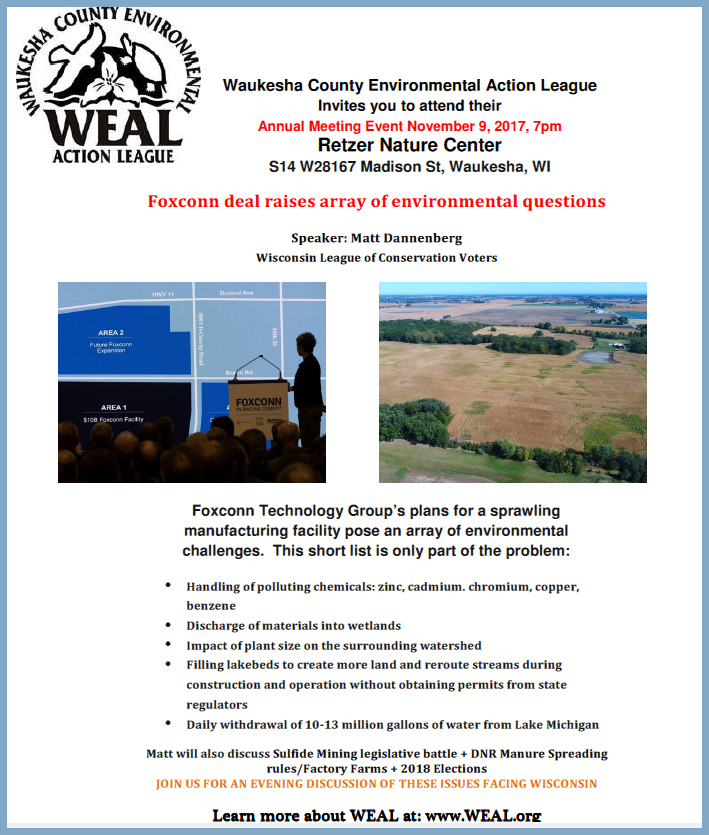 | | |
| --- | --- |
| Posted on October 11, 2017 at 8:00 AM | |
Our fall cleanup is coming up. The temperature should be just right. This year's cleanup promises to be a great day to get outside and enjoy our SE Wisconsin weather before the cold of winter arrives!
WEAL's Fall Highway Cleanup
Saturday October 21st at 9:00 am to 11:00 am
Rain or Shine
Where: Highway N, between Hwy 59 and Hwy ZZ
Wear old clothes, comfortable shoes, and work gloves.
Directions: Take Hwy 59 SW from Waukesha through Eagle to Hwy N.
Meet at the parking area in the middle of our segment on Hwy N across from the "Scuppernong Prairie State natural Area" sign.
Here's an easy way to get involved, help the environment and get some light exercise!
| | |
| --- | --- |
| Posted on August 29, 2017 at 10:40 AM | |
September is a great time to take hike! See the attached flyers. Note that Dianne is asking that your RSVP for specific locations. Her phone number and email are below.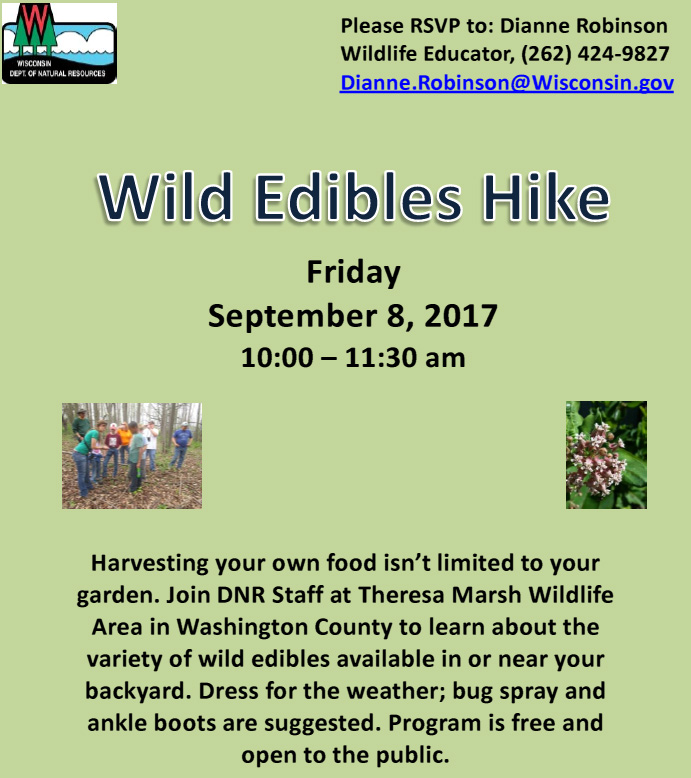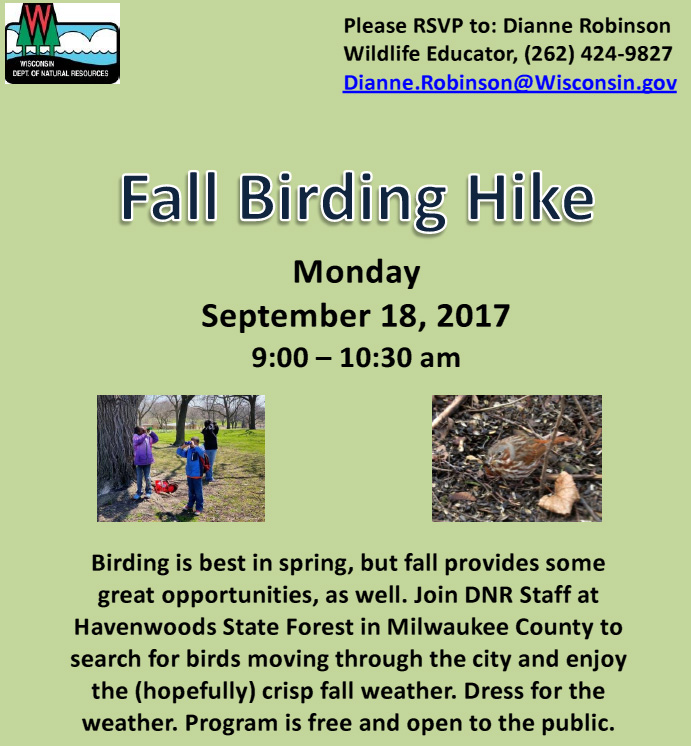 | | |
| --- | --- |
| Posted on July 10, 2017 at 11:10 PM | |
Bypass Opponent, we're so sorry about the late notice. As you recall we recently notified the court that the DOT has started construction on the West Waukesha Bypass. Presumably in response to our notification and request for an expeditious ruling, Judge Pepper has set our case for a hearing on the motions for summary judgment for July 11, 2017 9 am (the Court's notice is reproduced below).
NOTICE of Hearing on Motion 31 (https://ecf.wied.uscourts.gov/cgi-bin/DktRpt.pl?70589 )    MOTION for Summary Judgment: Motion Hearing set for 7/11/2017 at 9:00 AM in Courtroom 225, 517 E. Wisconsin Ave., Milwaukee, WI 53202 before Judge Pamela Pepper. (cc: all counsel)(pwm)
If you can attend please do! Otherwise watch your e-mail for additional information after the hearing tomorrow.
Sincerely,
Coalition Opposed to the West Waukesha Bypass
| | |
| --- | --- |
| Posted on June 23, 2017 at 7:35 AM | |
There are many wonderful wildlife areas in Wisconsin! We thought you might be interested in hiking this one with Diane Robinson!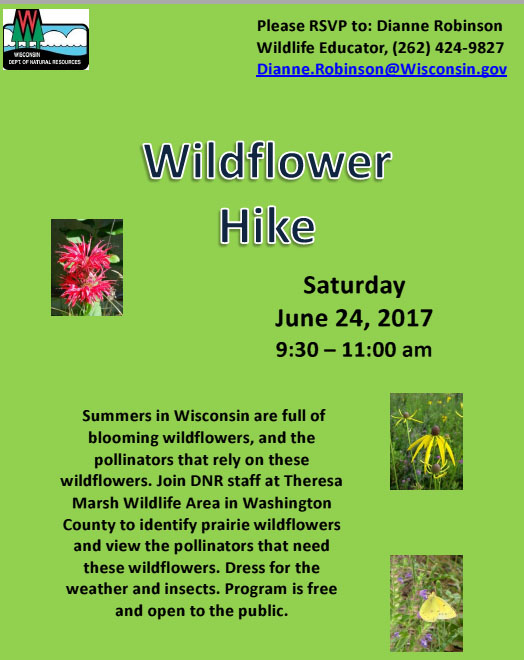 Wildflower hike at Theresa Marsh Wildlife Area on June 24th 9:30 am to 11 am. Please RSVP, and I hope to see you there!
We are committed to service excellence.
Visit our survey at http://dnr.wi.gov/customersurvey to evaluate how I did.
Dianne Robinson
Milwaukee County Wildlife Biologist
Bureau of Wildlife Management, Division of Lands
Wisconsin Department of Natural Resources
141 NW Barstow St. Room 180
Waukesha, WI 53188
Cell Phone: (262) 424-9827
Fax: (262) 574-2117
| | |
| --- | --- |
| Posted on May 18, 2017 at 7:05 AM | |
Friends, we'd like to invite you to the Friends of Vernon Marsh 2017 Golf Outing Dinner & Auction on June 2nd. Put together a foursome and golf at beautiful Broadlands Golf Club. Come meet LeRoy Butler, inventor of the Lambeau Leap! There will be prize holes, chances to win big prizes, a silent auction, a 50/50 raffle, and a live auction! Lots of fun for everyone! If you don't golf, join the festivities for dinner and fun!
If you can't golf on June 2nd why not join us for the Dinner and Auction. The cost of $50 per person gets you a delicious dinner, silent auction and live auction, fun, friends, and meet LeRoy Butler. What a great Friday evening! You'd spend $50 just going to eat at a restaurant! Come join us at Broadlands Golf Club on June 2nd and get so much more and support the protection of the Vernon Marsh as well!
Sign up information: https://www.picatic.com/event14713651536702

| | |
| --- | --- |
| Posted on May 5, 2013 at 10:45 PM | |
Our highway cleanup went well this last Saturday.  Beautiful weather helped make it so.  As always happens in the Spring, our road segment was full of litter.  Lots of soda and, I can't really understand this, "Got MIlk" plastic bottles.  Who throws milk cartons out their car window???  We collected 7 bags of garbage.  Special thanks to Bill and Tom for helping out this time!

| | |
| --- | --- |
| Posted on November 26, 2012 at 8:40 PM | |
A Reminder! Please attend the Waukesha County Board Meeting on Tuesday night to show your strong opposition to the West Waukesha Bypass Expansion!! There are only a few opportunities left to stop or slow down this project! This might be one of them!
Even if the County Board approves this resolution on the Bypass, we have to be there to let our elected officials know that there are consequences to their actions. We will keep track of the vote and will let all Coalition members know how each Board member voted later in the week.
We hope to see you there!
Date: Tuesday November 27, 2012
Time: 7:00 pm
Location:
Waukesha County Courthouse
515 West Moreland Boulevard
Room 350
| | |
| --- | --- |
| Posted on November 9, 2012 at 10:50 PM | |
Join fellow Waukesha residents who are fed up with Out of Control Highway expansion projects at a Bypass the Bypass Take Action Rally on Monday, November 12th at 6:30 pm at Citizens Bank of Mukwonago: Waukesha Branch on Hwy 59 and Center Road.  $55+ million for a new 4 lane highway with a 24 to 30 foot median, cutting through neighborhoods, severing children from their schools, increasing highway speeds and deaths, devestating pristine wildlife habitat, ruining Pebble Creek in Waukesha County!  This is what uncontrolled power is all about!  And for what?  To shave two minutes off of someone from the other side of Town's commute!  At what cost?  Its not for safety!  There are every few serious accidents in the proposed 5 mile corridor.  It's not to solve traffic jams!  There are virtually none.  Then for what?  Because, its been a line on a map for over 50 years!  Yes, you read right.  It's time to take a stand and say "No" to this unneeded Highway Expansion!  Couldn't this $55 million be used for something important!

| | |
| --- | --- |
| Posted on November 17, 2011 at 9:00 PM | |
A message from Marlin Johnson;  There is a great volunteer workday scheduled for Sat., Dec. 3 to cut brush and box elder along the west property fence row next to a recent prairie planting on our Ottawa Wildlife Refuge south of Dousman.
We do not want these species to invade the new prairie.  The group will meet a little before 9am at the parking lot east of Main Street and north of the Glacial Drumlin Bike Trail in Dousman.  The lot is across Main Street from the Bicycle Doctors store near the barber shop. If you have a chain saw or brush whacker bring it.
We will need people to apply poison to cut stumps and to pile brush.  Bring gloves.  We will work until noon, unless you want to stay longer.
Call Marlin Johnson at 262-965-2227

/